Compact, powerful, portable: the SENCO AC19306BL compressor
November 2021
|
2 min(s) read
|
Compressors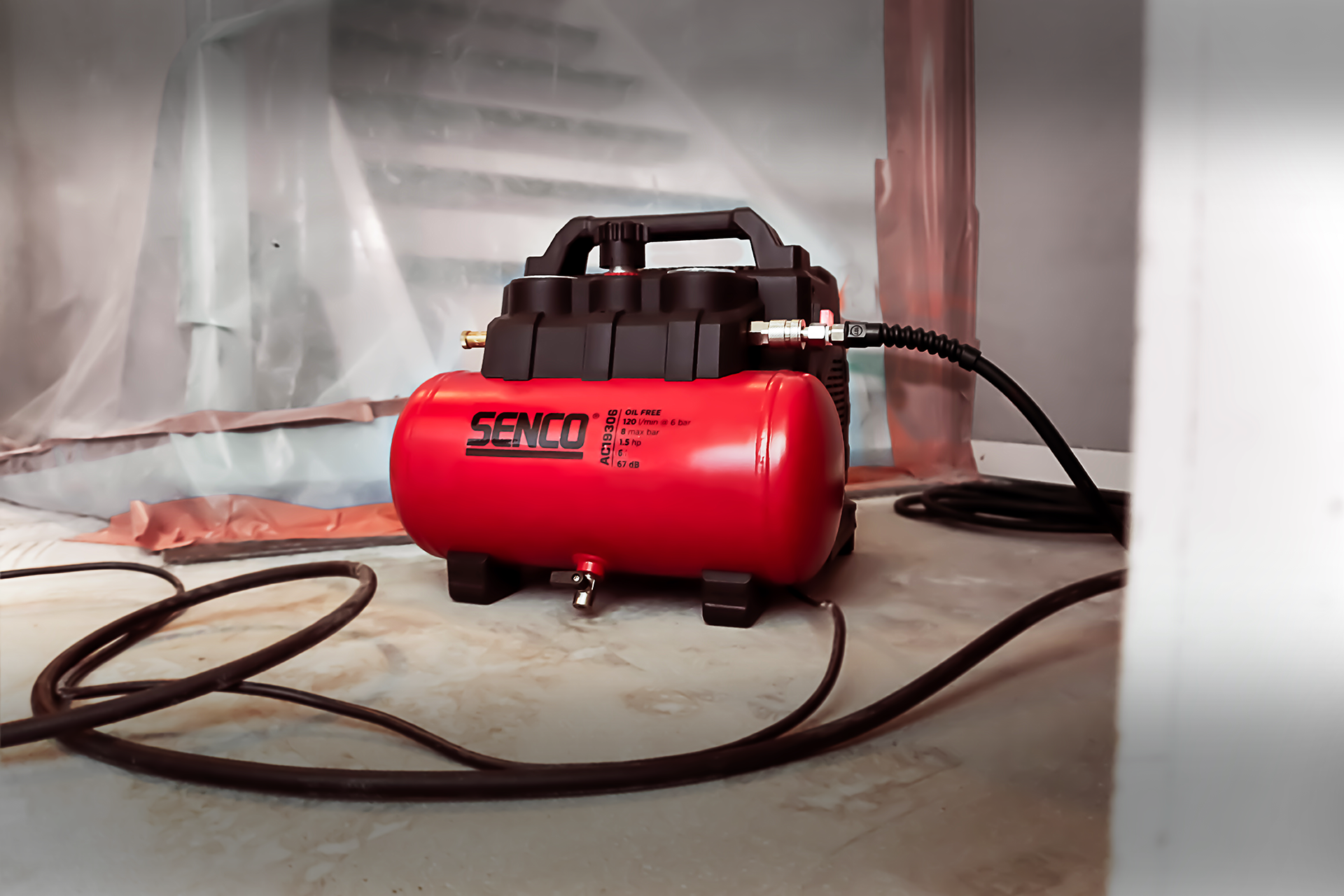 Extending our assortment to fit your needs, that is what we like to do. The SENCO AC19306BL compressor is your new best friend for powering your projects at home. The compressor is oil free and can be used in a wide range of projects that don't allow a lot of space for a big compressor or require relative low noise emission.
A high-performance compressor for the weekend handyman
The compressor has a high performance of 193 l/min inlet and 120 l/min outlet at 6 bar and a maximum pressure of 8 bar. Powerful enough to handle the most common DIY-projects:
Home renovation and decor with medium sized pneumatic tools for finishing, stapling and nailing jobs such as: Chair Rail, baseboards, ornamentals, cabinetry, furniture repair, small trim, craft assembly.
Cleaning surfaces and electronics by using your SENCO air blow gun to blow away dust.
Pumping your bike tires, footballs, and other tools easy and fast with SENCO air accessory kit.
AC19306BL is designed with a composite shell, which protects all sensitive components from daily damages, resulting in an enhanced lifetime. The oil-free design makes the compressor easy to use and maintain. No oil-changes, no oil spills in your home!
Light weight and low noise
Keep your ears and neighbors happy with this portable and silent compressor. The AC19306BL has a slimmed design with high capacity without being loud. The reduced noise emission of 67dB is making the sound level low enough so you don't need to wear hearing protection during your fixer hours.
Features and benefits
All good-to-know features and benefits lined up:
Top handle: the top handle makes the compressor easy to pick up and move to the next room or job site.
Composite protection: the composite shell surrounds the motor to protects it from dust, shocks and other daily damages.
Integrated manometers: the manometers are integrated in the composite shell, protecting them from any shocks.
2800 RPM 2-pole motor: this motor makes sure that the compressor runs smoothly and quietly.
6 litre tank: an air capacity perfect for small to medium sized pneumatic tools.
Strong rubber feet: absorbing shocks and vibration, these rubber feet prevent extreme noises.
Easy access drainer: the drainer is easily accessible and has a ball valve to prevent air leaks.
Multi-standard quick coupler: easy to connect to any hose with universal coupler.