DuraSpin Attachments are built to fit you
September 2021
|
3 min(s) read
|
Tools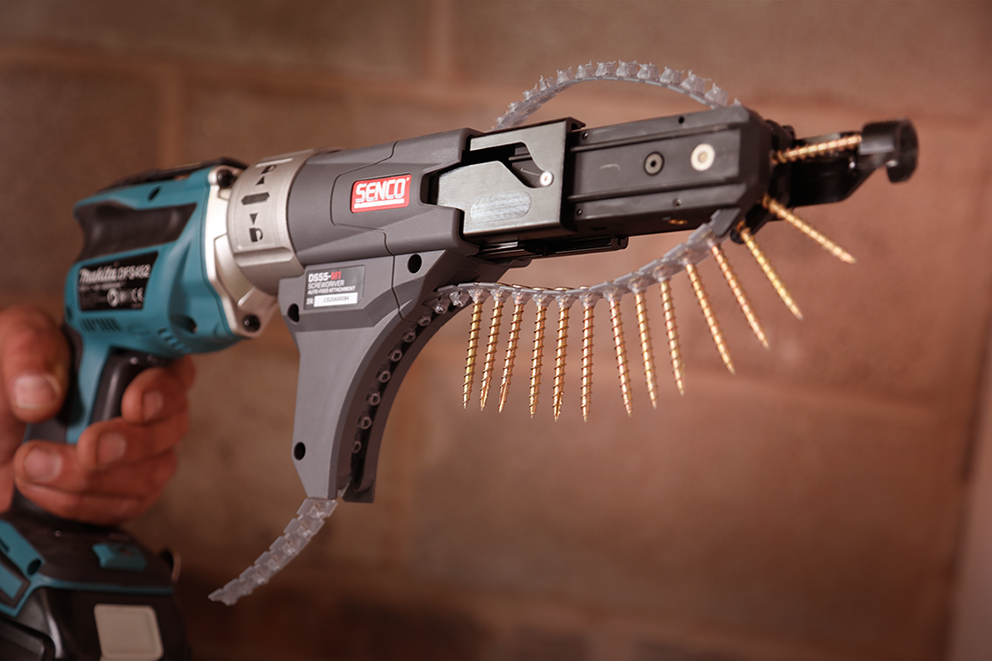 Picture this: you own a Makita or DeWALT screwing device. You love it, you use it all the time but there's something missing. You want to be able to screw in a continuous matter, without having to pick up new screws all the time. Especially when installing drywall. In come the SENCO DuraSpin Attachments! Within seconds, you they convert your regular Makita or DeWALT screwdriver into an auto-feed screw system. Problem solved, without having to buy an entire new tool.
Transform your screwdriver into an auto-feed system
It's easy: simply take off the front piece of your Makita or DeWALT tool and replace it with the attachment. It is equipped with the most important features of our regular DuraSpin devices.
The patented corner-fit feed system allows you to screw in the most difficult nooks and corners.
The DuraSpin attachments are equipped with a feed-on-return functionality to improve the speed and reliability of drives.
The universal nosepiece is applicable for both drywall and wood applications.
You can easily remove the attachment to access bit and to revers screws.
Tool-free screw length adjustment are installed on the attachments, so you can use it for different screws, even right after screwing!
They support several screwdriver models.
All attachments have a precise depth-of-drive adjustment with depth lock.
The DuraSpin attachments are light weight and compact
DuraSpin Technology
SENCO's DuraSpin Technology is a versatile screw system, to make you as productive as possible. DuraSpin tools increase fastening speeds by more than four times, compared to loose screws. This can improve your job site productivity by at least 30%!

Using the auto-feed collated screw system, you can simply move the tool to fasten screw after screw, without having to reach for new screws all the time. You can load the screws in a matter of seconds, and start screwing! The shape of the corner-fit nosepiece, in combination with the feed-on-return system give you an optimized view on where your screwing, ensuring that you're always fastening the right spot.

Read more on this technology here.
Compatible devices
The DuraSpin Attachments are available in three different versions, to fit multiple versions of the Makita an DeWALT screwdrivers.

DS55-M1 (9Z2021N) for Makita

FS2300

FS2500

FS4300

FS6300

DFS452

DS55-D1 (9Z2011N) for DeWALT

DW268

DW269

DW275

DS55-D2 (9Z2012N) for DeWALT

DCF620