DuraSpin Technology: made for efficiency
September 2021
|
4 min(s) read
|
Tools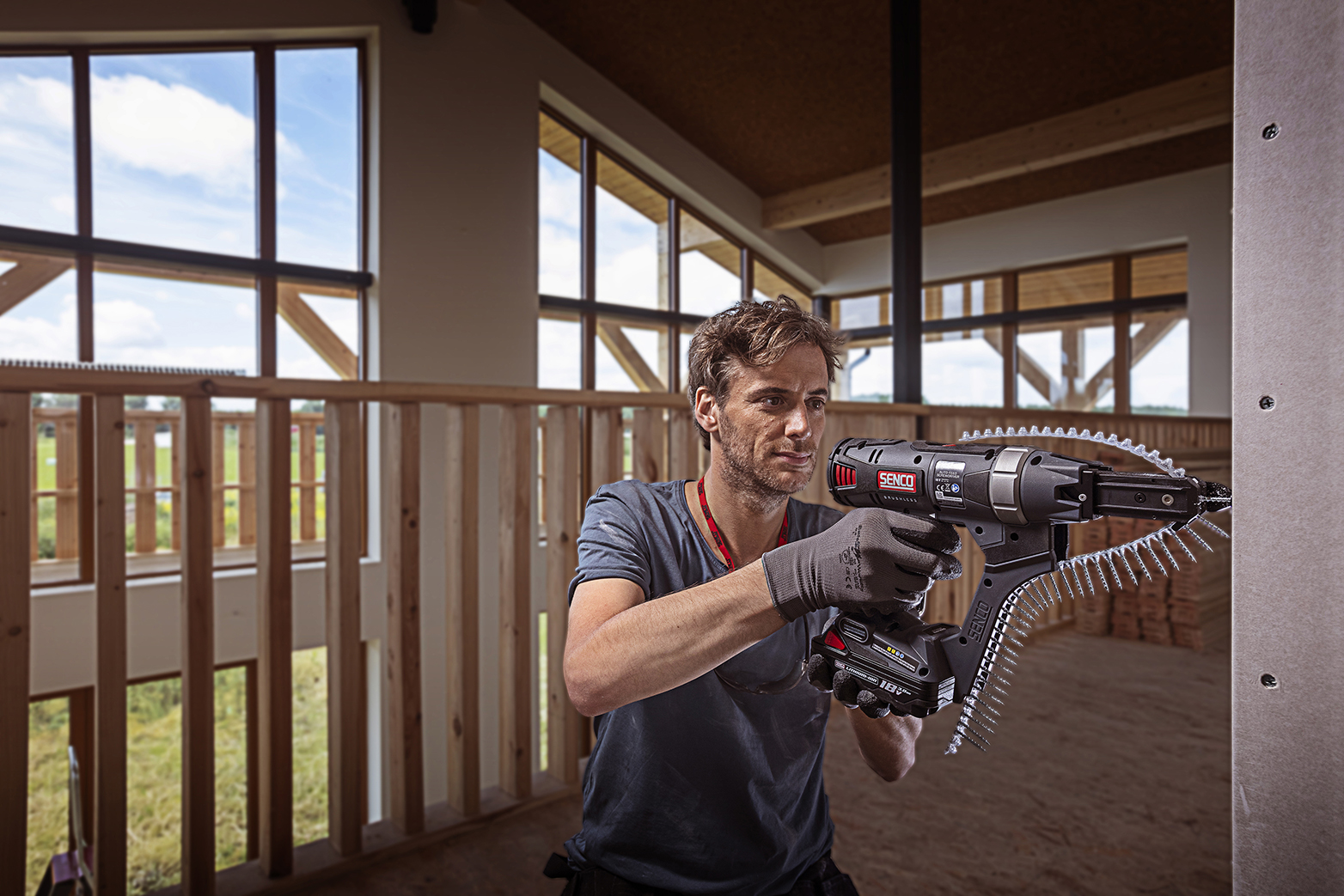 The SENCO DuraSpin is a versatile screw system, designed to make you as productive as possible. Compared to loose screws, DuraSpin increases screw fastening speeds by more than four times, improving your job site productivity by at least 30%. In 2020, we've updated the tools, based on contractors' feedback. Here's how they work.
Collated screws
Using collated screws, you can simply move the device to fasten screw after screw, instead of having to reach for new screws all the time. The collated screws are easy to load in less than a couple of seconds. The updated shape of the corner-fit nosepiece, in combination with the feed-on-return system ensure that the screws are always in the right place before screwing. Because of the corner-fit feed system, you are able to place screws in hard-to-reach places like corners and tight spaces.

Feed-on-return system
Let's talk a bit more about the feed-on-return system. The name says it all: after screwing one screw, the screwing bit returns and a new screw is being fed through to the nose piece to align with the screw bit. When your screw bit is back at its original position, you can immediately screw again. This makes for better line of sight and easier, more accurate screw placement. Plus, the SENCO DuraSpin screw guns allow you to drive more screws faster and with greater precision. Resulting in quicker installations, lower costs and greater profitability.

All DuraSpin tools are equipped with a precise depth-of-drive adjustment to sink a screw to any depth you wish, up to 5 cm below the surface. Moreover, the nose piece is adjustable in length, so you can drive different sizes of screws.
Reverse and remove screws
One of the biggest benefits of the updated DuraSpin is the detachable nose piece. Simply twist and pull to detach it, after which the driver bit is exposed to be replaced with a new one – using the quick-slide bit release. Or, if it happens that you've made a mistake, put the tool in reverse and remove the faulty screw.

The upgraded version of the DuraSpin comes, for now, in three cordless versions.
The DS522, which has a high torque of 8 Nm and a selectable RPM between 1600 and 2500. It is designed for all your standard auto-feed screw driver applications such as drywall.
The DS525 is a bit different as it drives at 5000 RPM. This makes it possible to go through steel much easier.
Just like the DS522, the DS722 drives between 1600 and 2500 RPM. However, this tool drives screws up to 75mm in length, providing the ability to use it for other applications, like sheathing to wood or fiberglass backed gypsum sheathing.
The DuraSpin is a great fit for general contractors that need the versatility to do a wide variety of jobs. It provides plenty of power for composite decks, cement boards, or applications where dense engineered materials are needed. Moreover, the DuraSpin DS525 is ideal for applications where drill point screws are used to cut through heavy steel. The tools are all equipped with a 3 Ah 18V battery.