Experience silent power with the SENCO low noise compressor range
October 2021
|
3 min(s) read
|
Compressors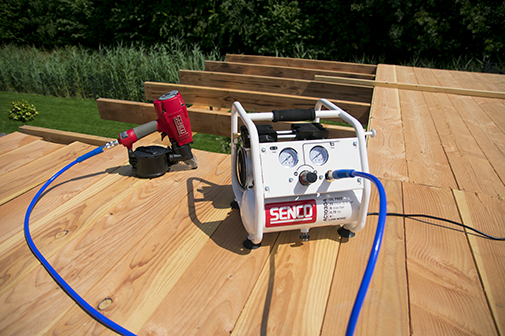 Whether you need an air compressor for quick jobs or for all-day performance, SENCO offers high quality, reliable options to meet your pneumatic fastening needs. Having a lot of compressor noise around you all day, can be tiring and overstimulating. What better way to solve that problem, than to prevent it? Part of our compressor assortment are the low noise compressors, especially made for applications that take all day and can cause fatigue.
Quiet but powerful compressors
Even though they are quiet, SENCO's low noise compressors are robust and powerful. There is one suited for every pneumatic application. The assortment ranges from a small, 4 litre easy-to-carry compressor for tools like brad nailers and light staplers to a 80 litre tank suitable for your heavy coilnailers, framers or staplers. All models are powered by a 4-pole low speed motor, offer a twin cylinder compressing unit for a smooth running pattern, and use vibration absorbing components, which all result in a lower noise emission level. This creates a more comfortable workspace with a noise level that is acceptable to still communicate with your co-workers. The high-quality materials of the machines ensure a reliable power source that can work even in the toughest job site conditions. The wide range offers an ultimate partner for all your pneumatic fastening jobs.

Another benefit of these compressors is that they are low maintenance. As they are oil free, there is no need to replace oil. Plus, because they don't heat up as much as normal compressors, there is a lower rate of condensation, leading to a decreased chance of possible tool trouble, and reducing the draining operation frequency.
In short, SENCO's low noise compressors include

Tank capacities between 4 and 80 litres, depending on the variant.
Low noise levels: between 58 and 78 dB.
Low RPM's to reduce heat and noise.
Twin-cylinder technology: brings a smooth running pattern, reduces noise emission level.
Rubber feet & inflated wheels: Ensure a silent and stable operation by absorbing vibrations.
Transportation handle: each compressor has a convenient transportation handle.
Oil free technology: the oil free design eliminates the need to replace or refill oil and provides a clean oil-less air.
Less heat build-up: provides a safe working environment and reduces condensation.
Energy saving technology: the low noise range provides a more sustainable compressor.
Powerful compressors that supply you with a consistent, strong and reliable air resource.
Visit your local or online dealer to discover our SENCO low noise compressor range and find the compressor that fits you best.